Sling TV made its debut on January 5, 2015, in a presentation at the Consumer Electronics Show in Las Vegas, Nevada. The company is owned and operated by Dish Network.
Sling TV is an American streaming television service that offers video on demand, local channels, and major cable channels which can be streamed via smart TVs and digital media players, such as Roku.
In September 2020, Sling TV announced Sling Watch Party, a co-viewing feature that allows people from different locations to watch live TV together simultaneously.
In 2021, the company announced a new version of Sling called Sling Free, where viewers would be able to watch limited programming for free by watching advertisements.
The company will be showing the 2022 Superbowl game and offering special deals for new subscribers.
Sling also showed the 2022 Winter Olympics via the NBC channel.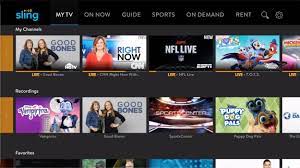 Sling TV maintains a corporate office in Englewood, Colorado.