National Public Radio replaced the National Education Radio Network in 1971. The Public Broadcasting Act, signed into law in 1967, also created the Public Broadcasting Service for television.
NPR suffered an almost fatal setback in 1983 when efforts to expand services created a deficit of nearly $7 million (equivalent to $19 million in 2022 dollars).
After a Congressional investigation and the resignation of NPR's then-president Frank Mankiewicz, the Corporation for Public Broadcasting agreed to lend the network money in order to stave off bankruptcy.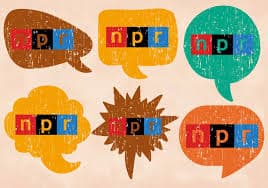 NPR is an American privately and publicly funded nonprofit media organization. The company produces and distributes news stories and cultural events, as well as serving as a national syndicator to more than 1,000 public radio stations.
NPR also has a mobile phone app where clients can view current news stories.
In December 2018, The Washington Post reported that between 20 and 22 percent of NPR staff was classified as temporary, while this compares to about five percent of a typical for-profit television station.
Some of the temporary staff members told the newspaper the system was "exploitative", but NPR's president of operations said the current system was in place because the station is a "media company that strives to be innovative and nimble."
NPR maintains a corporate office in Washington, DC.