DoorDash was founded in 2013 by Stanford University students Evan Moore, Andy Fang, Stanley Tang and Tony Xu. The company is an on-demand food delivery service.
This company is similar to other recent delivery service companies aimed at offering delivery from restaurants that do not provide it themselves. Originally founded in Palo Alto, the company recently moved into larger headquarters in San Francisco in late 2015.
DoorDash has been rumored to have raised hundreds of millions, possibly as much as 1 billion, from businesses such as Sequoia Capital and SV Angel. Originally offering service to only the greater San Francisco area, in less than 3 years time this company has already expanded to Los Angeles, Chicago, and Boston.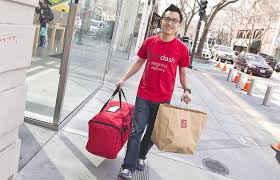 In-N-Out filed a lawsuit in late 2015 against DoorDash claiming unfair competition and trademark infringement.
The company announced in March 2018 that it was venturing into the grocery delivery service by partnering with Walmart in the Atlanta, Georgia, area.
Wingstop has partnered with DoorDash and says that the company will not be dealing with other delivery services. 
DoorDash is also talking with Postmates about a possible merger to fend off competitors GrubHub and Uber.
In September 2022, WingStop eliminated its exclusive partnership with DoorDash and added UberEats to its available list of delivery services.
DoorDash maintains a corporate office in San Francisco, California.