Grainger's subsidiary, Zoro Tools, Inc., was launched in 2011 to serve the US small business market through a web-only transaction-based model, while Grainger.com serves primarily large and mid-sized customers.
The company sells tools and machinery, safety equipment, plumbing supplies, electrical components, cleaning supplies, hardware, and building materials.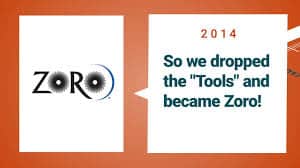 In 2014, the company dropped the word "Tools" from its name and rebranded it as "Zoro."
In 2019, parent company Grainger began investing more in Zoro to attract more mid-sized businesses.
Masaya Suzuki was named CEO and head of Zoro in 2020 after being the CEO of Graingers other subsidiary MonotaRO.com
In March 2021, the company celebrated 10 years of eCommerce sales.
The company offers more than 4 million products due to diligent work creating partnerships with small distributors.
Zoro maintains a corporate office in Buffalo Grove, Illinois.