Empire Today was founded in 1959 by Seymour Cohen, originally as Empire Plastic Covers, in Chicago, Illinois. By 1965, the company had expanded its services to include cleaning and installing carpets and drapes. The name was then changed to Empire Home Services. In 2003, the company was sold and it changed its name to Empire Today.
The company operates a chain of flooring and drapery service, which includes the installation of carpet, hardwood flooring, and window treatments. Floor Covering Weekly has named Empire their #1 or #2 seller of flooring and home improvement services between 2007 and 2010. The company has more than 75 locations and has served more than 1 million customers.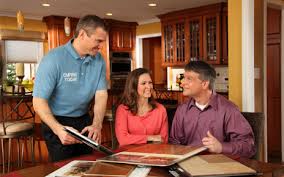 In 2011, Empire Today implemented a carpet and padding recycling program to minimize the environmental impact of their day-to-day operations.
In November 2016, the company announced that they had been acquired by H.I.G. Capital, a private equity company.
In December 2019, the Better Business Bureau awarded Empire Today with its 2019 Torch Award for Marketplace Ethics. 
Empire Today is best known for their in-home service, including measurements, and next day installation, as well as a simple, but catchy jingle in television commercials. The company has headquarters located in Northlake, Illinois.