This Santa Monica, California-based startup was founded in September 2011 by Trevor Bezdek and former Facebook executives Doug Hirsch and Scott Marlette.
GoodRx is an American telemedicine website and prescription drug tracking app that helps people find the cheapest price on prescription drugs.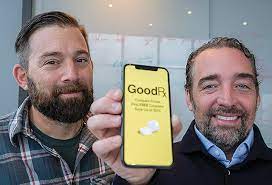 The website receives about 14 million visitors each month and by February 2020, millions have downloaded the GoodRX app.
 In September 2019, GoodRx acquired the telemedicine company HeyDoctor and rebranded the telemedicine platform as GoodRX Care. The platform allows individuals to consult with a doctor online and obtain a prescription for certain types of medications at a cost of $20 as of December 2019, regardless of insurance status. Medical testing services, which vary in price, are also offered through the platform.
In February 2020, Consumer Reports stated that GoodRx shared user data information, such as the name of the drug that was being searched, with companies such as Facebook and Google.
A few days later, GoodRx says that they have stopped sharing this information with Facebook.
GoodRx maintains a corporate office in Santa Monica, California.