Smashburger was founded in 2007 by Tom Ryan and Rick Schaden, and a little help from Consumer Capital Partners. Ryan had been in the restaurant business for many years, first working with McDonald's  and later, he helped Quizno's roll out some of the most iconic sandwiches ever! What most people are unaware of is that Ryan has a PhD in flavor and fragrance. Using this knowledge, Ryan created a burger unlike any other.
The company began with one location in Denver, Colorado. Today, the company has more than 350 locations in 8 countries, as well as the US. The secret behind Smashburger is in the name. Each burger flavor has its own list of ingredients and is made the same way each time. An Angus chuck steak is ground down to a particular consistency, placed beneath a weight (smashed) and set on the griddle for 10 seconds. The weight is then removed and in another 90 seconds, the burger is done.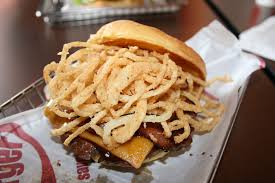 Besides smashing burgers, the company is perhaps best known for localized burger flavor that pertains to the region where the restaurant is located; Windy City Burgers and Sin City Burgers, for example. In addition to burgers, the company offers chicken sandwiches, milkshakes, fries, onion rings, and fried pickles. Beer and alcohol are also sold in most locations.
In 2015, Philipino based fast-food operator Jollibee Foods Corporation stated that they had acquired a 40% interest in the company for $335 million.
In early 2017, there was a shakeup in the executive structure of the company. At least 40 persons have been fired or asked to resign, including the CEO Michael Nolan and CFO Dennis Smythe. Reasons for the removal and change in management remains unclear.
Jollibee Foods Corporation announced in April of 2019 that they had now acquired a 100% share of Smashburger.
A Las Vegas, Nevada, Smashburger location demanded that a child's service dog be removed from the building in June 2019. The corporate office for Smashburger stated that they are investigating the incident.