Motel 6 was founded by William Becker and Paul Greene in Santa Barbara, California in 1962.
The partners wanted to build motels with bargain rates and decided on the rate of $6 per night; a rate which would cover building costs, land leases, and janitorial supplies. This $6 rate is the reason for the name "Motel 6."
To cut costs the brand offered coin-operated black and white television sets instead of the free color televisions offered at more upscale hotels. Motel 6 also had no on-site dining, a model that continues today.
Throughout the 1960's the Motel 6 model became more popular and the company began to take a small market share away from bigger chains.
By 1980 Motel 6 had 300 locations.
Kohlberg Kravis Roberts bought Motel 6 in 1985 and began to move it away from the no-frills approach.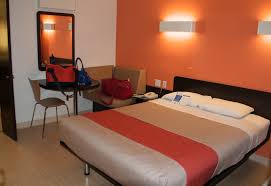 French-based Accor bought the company in 1990 and began franchising in 1994 in order to expand more quickly
In 2000, Motel 6 expanded internationally for the first time with a location in Ontario, Canada.
In 2008, the company began a nationwide overhaul and remodeling of all locations. The newly designed rooms won the Travel and Leisure Design Award in 2010.
The Blackstone Group bought the motel chain in 2012 for $1.9 billion.  
In September 2017, immigration attorneys accused Motel 6 desk clerks at two locations in Phoenix, Arizona, of notifying US Immigration when guests checked in only with identification from Mexico. The attorneys said that court records showed that federal immigration agents arrested at least 20 people the Phoenix Motel 6 locations over the course of seven months in 2017. Motel 6 stated that this was an isolated incident at the Phoenix locations and that they did not endorse this practice. 
In June 2019 the company settled a class action lawsuit over this practice. Settlement terms included a 3-year agreement to not violate customer privacy and pay $12 million.
Today Motel 6 has more than 1,100 locations in the United States and Canada. Motel 6 also operates extended-stay hotel chain Studio 6, which has about 60 locations.  Company headquarters are located in Carrollton, Texas.