Floyd Home Furniture was founded in 2014 by Kyle Hoff and Alex O'Dell. This pair of entrepreneurs began business by selling a single item- the Floyd Leg, a clamp stand that turned any flat surface into a table.
Soon the company expanded with the Floyd Bed and then the Floyd Sofa.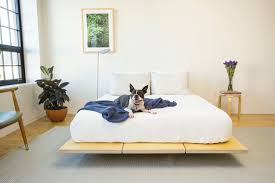 Hoff and O'Dell knew that most furniture companies today use the same basic design and mass-produce furniture with lots of waste involved. These businessmen wanted to revolutionize the industry by using simple designs that never go out of style and using high-quality materials so the furniture will last.
Hoff notes that the company keeps parts in stock, so if a leg should break off the sofa, you can buy a single leg and repair it. This is something no other furniture company does.
There are numerous reviews of the company's products, the majority of them good. Even companies like Gear Patrol call some of Floyd's pieces "the most exciting pieces of furniture".
Floyd Home Furniture maintains a corporate office in Detroit, Michigan.