Red Bull was founded in Thailand in 1976.  Krating Daeng had been making the drink, which was favored by night workers and truck drivers.
When German citizen Dietrich Mateschitz was visiting Thailand, he found that the drink "cured" his jet lag.
 In 1984, Mateschitz co-founded Red Bull GmbH and turned it into an international brand.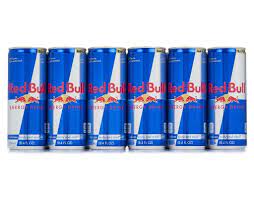 During the 1990s, the drink was exported to many countries, including Germany, the UK, and the United States. The flavoring for Red Bull is still produced in Bangkok and exported around the world.
Over the years, the company has experimented with different flavors and colors, including watermelon, cranberry, and blueberry.
Red Bull owns football teams, with clubs in Austria, Germany, the United States, and Brazil featuring the Red Bull trademark in their names. By associating the drink's image with these activities, the company seeks to promote a "cool" public image and raise brand power.
Some claim that the drink is dangerous and in one case, a couple who stole more than 45 cases stated that they did so because they were addicted to the drink.
Red Bull maintains a corporate office in North America in Santa Monica, California.