Erica and Hale Cole Tucker founded Tucker's restaurant in 2014. This pair of entrepreneurs wanted to serve good food to great people.
The Tucker's believe that employees aren't workers, but they refer to them as tribe members and tribe leaders.
From a single location, Tucker's has grown to 6 restaurants around the state, with more in the works.
Tucker's serves breakfast and lunch only, often to packed crowds. While many restaurants are having difficulty finding and retaining staff, Tucker's has not found this to be an issue.
The restaurant chain is known for offering free meals to veterans on their day, along with their wives.
In 2019, Hale and Erica Tucker were awarded the Small Business Person of the Year.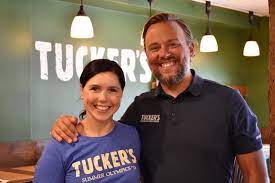 Tucker's Restaurant maintains a corporate office in Manchester, New Hampshire.