Wawa began in 1803 as a dairy farm.  George Wood imported cows and sold "sanitary" milk to school children, who used to become sick from raw milk. Wood had doctors "approve" his milk as safe, which convinced many parents to buy his milk for their families.
The company grew rapidly as demand for dairy products increased.
In the 1960s, consumers began to buy milk from grocery stores, so Wawa transitioned to a convenience store in order to sell their own milk. In 1964, Wood opened his first convenience store in Folsom, Pennsylvania.
By 1989, there were 400 Wawa stores.
In 2003, the company began to construct a new distribution center in Carney's Point, NJ.
Wawa launched its own line of soda in 2007. 
Wawa was among the first convenience stores to implement self-service computerized touch-screen menus for food orders, in an attempt to improve order accuracy.
Wawa provides surcharge-free ATMs, the result of a partnership with PNC Bank, which started this program back in 1985. The company implemented this program in stores in 1996. In 2010, Wawa surpassed 1 billion transactions under the PNC brand.
There are currently nearly 750 Wawa locations in Pennsylvania, New Jersey, Delaware, Maryland, Virginia, and Florida.
In 2022, the company announced that it would be opening its first stores in Georgia by the end of 2024. 
The name WaWa comes from the city where the corporate office is located. Wawa is the Ojibwe word for the Canadian Goose, which is the store symbol.
In September 2022, WaWa asked House candidate Matt Jenkins to stop using their goose logo as his campaign logo, stating that it was a copyright infringement.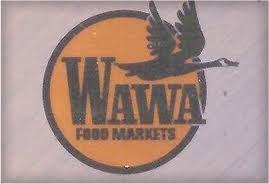 WaWa maintains a corporate office in Wawa, Pennsylvania.