The Palm restaurant was founded in 1920 by two Italian brothers, Pio Bozzi and John Ganzi. While trying to obtain a license, the clerk had difficulty understanding this pair of businessmen, who had a strong Italian accent. Instead of issuing the license in the name of The Parma, they wrote The Palm. Bozzi and Ganzi decided it was easier to change the name of the restaurant, rather than change the name on the license.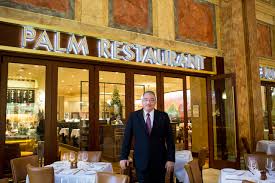 The restaurant served lunch and dinner for many years, using a single dining room. Later, a second room was installed, later a second floor was added, before being expanded to a much larger location across the street.
  Today, the company has 22 locations with plans to expand to 30 locations by 2020.
When the Palm first opened, it operated as a conventional Italian restaurant offering fare similar to that found in New York's Little Italy neighborhood. Early in its history, however, a customer made a request for steak and the owners broiled it after retrieving meat from a butcher on Second Ave. As told in the Palm cookbook, the original request led to others and the item was finally put on the menu.
Later, the restaurant added Nova Scotia lobesters, as well as aged USDA prime beef, as well as a selection of salads.
Perhaps one of the defining features of the restaurant has been the tradition of using caricatures to cover the walls, rather than paint or paper. Those depicted in the murals are often celebrities, well known politicians, comedians, as well as sports and other media figures.
The Palm's historical materials contend this tradition began as a twist on the phrase "sing for your meal" where an artist who enjoyed their meal would pay for it by drawing a portrait on the wall. Numerous celebrities have often provided an autograph next to their portrait. This tradition has continued at all other locations.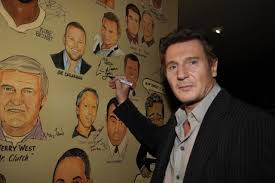 The grandson's of the original owners are the third generation now operating the chain. Frequent customers are encouraged to join the 837 Club, which offers an accumulation of points, which can be used on future visits, as well as a free lobster dinner on the patron's birthday.
The company filed for bankruptcy in 2019 due to an argument between family members. The judge overseeing the case ordered the restaurant chain sold in November 2019.