Stop & Shop can trace its roots back to 1892 when Solomon and Jeanie Rabinovitz opened their first produce store near Boston, called "The Greenie Store". This location closed in 1908 but the Rabinovitz family opened another store in Somerville, Massachusetts, called Economy Grocery Store. Like the original, this store began by selling produce, but quickly added other food items, such as milk and meats. By 1917, the company had 15 locations. 
Even during the Great Depression, Stop & Shop continued to be successful. By 1929, the company had 435 stores. The company name was officially changed to Stop & Shop in 1945. By 1949, the company was reaching $50 million in revenue.
Stop & Shop entered the Rhode Island and Connecticut markets in the early 1950s, New York in the early 1960s, and New Jersey in the late 1960s.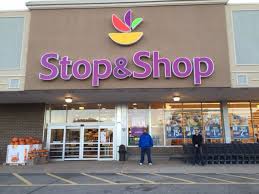 In 1972, the company built the most technically sophisticated meat processing and distribution plant in its time in Marlboro, Massachusetts.
In 1982, the company built its first superstore in Springfield, Massachusetts. These Superstores were between 45,000 square feet and 80,000 square feet. In addition to traditional supermarket offerings, these stores featured bakeries, pharmacies, moderate selections of general merchandise one would not expect to find at a supermarket, such as hardware items or socks, expanded deli departments, cafes, and a salad bar. Some of these stores would also contain a bank, expanded liquor sections, along with beer,  and video rentals. 
In 1995, the company was acquired by Dutch company Ahold and acts as a subsidiary.
In 2007, Stop & Shop asked customers to submit stories and videos regarding their shopping experience as a means of promoting the value and camaraderie of shopping at their stores. 
 The company introduced a smartphone app, along with a loyalty program and coupons in 2010.
The company launched their own Facebook page in 2013. The company currently has 422 locations and employs approximately 82,000 employees. Annual revenue for Stop & Shop was $15.2 billion. Headquarters remain in Quincy, Massachusetts.