Ken Fisher is an American investment analyst and one of the richest men in the world. His father was also an investment advisor. He graduated with a degree in economics in 1972. In 1979, with $250, Fisher started his own investment firm, Fisher Investments in San Francisco, California.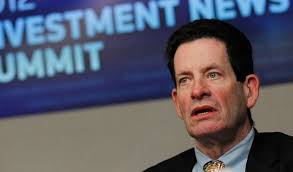 Fisher was the first to use a practice called price-to-sales ratio to gauge his stock buying. Fisher defined his investment philosophy after studying the stock returns and P/E ratios between January 1976 and June 1995 ousing six investment categories: big-cap value, midcap value, small-cap value, big-cap growth, midcap growth, and small-cap growth.
Fisher served as CEO until 2016 and now works as Chairman of the company. Fisher Investments and its subsidiaries manage over $100 billion in assets for individual investors and institutional investors around the world. The firm maintains four principal business units: Fisher Investments Institutional Group, Fisher Investments Private Client Group, Fisher Investments 401(k) Solutions Group and Fisher Investments International Group.
 While the company has some of the highest fees in the industry, it also outperforms nearly every other investment firm. Fisher typically makes bold statements and predictions, including saying that the Federal Reserve doesn't matter as much as people think it does.
At a private "power lunch" meeting on October 8th, 2019, Fisher was recorded making sexist comments during his speech.  He compared attaining new clients to picking up girls at a bar.  Fisher has since apologized for his comments, calling them inappropriate, but his comments have snowballed into a huge loss for the company, with at least 6 large government pension or investment firms pulling their money out of the company. This loss currently stands at $2.7 billion.
Fisher has been banned from doing interviews or giving speeches for the time being.
Company headquarters are located in Camas, Washington.