Charles Orvis opened a tackle shop in Manchester, Vermont, in 1856.  His fly fishing reel has been described as the first fully modern fly reel. His family took over the business, including his daughter Mary, who published a reference book regarding fishing flies and their history.
 in 1965, the company was sold to the Perkins family, who still own the company. Orvis has become the world's largest manufacturer of high-quality fishing rods and reels. Between 1982 and 2000, the company acquired six other firms.
  Today, the company has 88 retail stores, 11 outlet locations, and an e-commerce site. In addition to fishing equipment, the company also sells a full line of sporting goods and other items, including dog beds, clothing for both men and women, home items such as bedding, doormats, and outdoor furniture, luggage, and personalized gift items.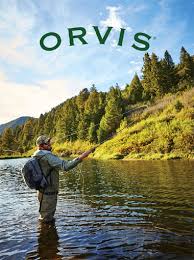 In October 2019, Orvis released a dog bed that was made from 250 recycled plastic bottles.
Company headquarters for Orvis are located in Sunderland, Vermont.