Houston's Restaurant was founded in Nashville, Tennessee, in 1976 by current CEO George Biel and two partners. Over the years, Biel's partners sold their interests in the company back to Biel.
The corporate company, Hillstone Restaurant Group, was founded in 1976 and owns the following restaurants: Gulfstream, Bandera, Rutherford Grill, Palm Beach Grill, Cherry Creek Grill, Los Altos Grill, Woodmont Grill, R+D, Hillstone, Honor Bar, South Beverly Grill, East Hampton Grill, White House Tavern, and Houston's. 
As of 2017, Houston's Restaurant has 51 locations in 13 states. Houston's Restaurant is a casual American food type restaurant, whose specialty is steaks and seafood.
Since 2009, the company has been changing the name of some locations to the corporate name of Hillstone. The company has provided no explanation for this, however, there has been speculation that the change was made to avoid federal menu-labeling requirements on menus for restaurants with 20 locations or more as a part of the Affordable Care Act, otherwise known as Obama Care.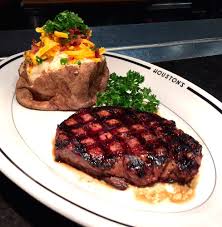 Zagat, a national restaurant review company, gave the restaurant high marks and remarked on its '"vibrant", "modern" setting matched with a "lively bar scene. The company also has overall ratings of 4.5 out of 5-stars on Yelp, TripAdvisor, and Google review sites.
Houston Restaurant Week is designed to help local foodbanks. Houston's Restaurants, "Take Out and Do Good" will offer take out and delivery meals August 1st, 2021 through September 6th, 2021. One dollar from each meal order wil be donated to various food banks in the greater Houston, Texas, area. 
Company headquarters are now located in Beverly Hills, California.