How would you rate your experience with First National Bank of Omaha ?
First National Bank of Omaha Corporate Office Address
First National Bank Of Omaha, Inc.
1620 Dodge Street
Omaha, Nebraska
68197
Contact First National Bank of Omaha
Phone Number:
(402) 342-2265
Fax Number:
(402) 342-4332
Website:
https://www.firstnational.com/
Email:
Email First National Bank of Omaha
First National Bank of Omaha Facts
Founder:
Thomas Davis, Herman and Augustus Kountze
Date Founded:
1857
Founding Location:
Omaha, Nebraska
Number of Employees:
5000
First National Bank of Omaha Executives
CEO:
Clarkson D. Lauritzen
CFO:
Stephen F. Eulie
COO:
Jon P. Doyle
First National Bank of Omaha History
First National Bank of Omaha can trace its roots back to 1856, when a group of settlers crossed the Mississippi river and made camp in Nebraska. One of the group members, Thomas Davis, donated $600 in gold dust to found a new city charter; the city of Omaha. Later, two brothers, Augustus and Herman Kountze opened a bank in Omaha, appropriately named Kountze Brothers Bank. The company originally traded in gold, gold dust, and buffalo hides. 
A second bank opened in 1863 and began doing business under the name of First National Bank of Omaha.
In 1913, the company opened up a separate department for women only so female clients would feel more comfortable in a business setting. Tellers were females who served their clients' tea in a more home-like atmosphere.
The Great Depression caused more than 750 banks in Nebraska to close. First National not only met their customers demands for cash, they extended their hours and honored every withdrawal request, proving they were solvent.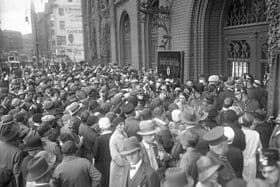 In 1953, the company became the 5th bank to offer their own credit card.
In 2002 First National Bank was selected one of "America's Best Companies for Working Mothers" according to Working Mother magazine, an honor that has been repeated annually due to on-site child development centers.
In 2003, the company was named "One of America's Most Admired Companies" by peers at Fortune Magazine.
On February 22, 2018, the bank announced it would no longer renew its contract with the National Rifle Association as a result of customer feedback after a recent school shooting in Florida. The bank had offered special branded Visa cards to NRA members to support the group. This has resulted in a quite a bit negative criticism. 
The company operates as a subsidiary of First National of Nebraska. Company headquarters is located in a 45 story skyscraper in downtown Omaha, Nebraska.