Subway was founded in 1965 by founder and former CEO Fred DeLuca and Peter Buck.  The first restaurant was called Pete's Super Submarines and was located in Bridgeport, Connecticut. A then 17-year-old DeLuca borrowed $1,000 from his friend Peter Buck to start the sandwich shop.
In 1968, they began using the name Subway.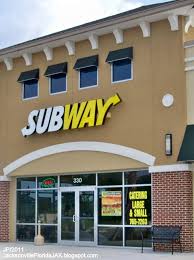 By 1974, there were 16 stores.  The duo wanted to expand more quickly, so they began to franchise.
In 1977, the "Snak" sub is introduced.  This later becomes the 6″ sub.
By 1982, there were 300 locations.
In 1984, the first franchise outside North America opened in Bahrain.
By 1987, there were 1000 locations.
By 1990, there were 5000 locations.  The chain also expands to Mexico this year.  
By 1995, there are 11,000 locations.
In 2002, Subway surpasses McDonald's in the number of total restaurants.
Jared Fogel was a featured spokesperson for the chain in 2000 after he claimed that he lost 200 pounds mostly by eating 6-inch Subway sandwiches. The chain dropped Fogel when he was forced to plead guilty to child pornography and child molestation charges.
The company makes approximately 5,300 sandwiches every minute and uses about 18 acres worth of lettuce every single day.  
In 2013, an Australian teenager posted on Facebook that Subway's footlong subs were actually only 11 inches in length. Others found that this was true at their Subway shops as well and a lawsuit was filed in 2012. In 2017, the case was settled: Subway agreed to institute practices to ensure its footlongs are actually 12 inches and paid $520,000 in legal fees and $500 to each of the 10 individuals who filed suit.
Founder Fred DeLuca passed away in 2015.
Today, there are almost 42,000 Subway restaurants in 112 countries worldwide.  It is the largest single restaurant chain in the world.
In April 2018, the company announced that it would either close or relocate approximately 500 locations in the US to improve overall company profitability.
Current CEO Suzanne Greco announced that she was stepping down in June of 2018. The company is considering hiring their first non-family member as CEO of the company.
In January 2019, a customer snapped a photo of a Subway employee putting her bare feet on the counter where sandwiches were made, prompting the health department to respond.
In October 2020, a court in Ireland stated that Subway's bread contained too much sugar to be classified as bread and therefore, cannot be considered a food staple. This means Subway no longer qualifies for a tax deduction that is available in Ireland.
Subway hired soccer star Megan Rapinoe as a spokesperson but after she knelt in front of the US flag to protest police violence, franchises asked the company to drop her in August 2021. 
Subway maintains a corporate office in Milford, Connecticut.