Jack Miller realized that companies needed to buy office supplies. He borrowed $2,000 from his father-in-law and opened a small "warehouse" using a back room of his father's poultry shop in 1956.
Along with Jack's brother Harvey, the pair created marketing strategies and produced a small mail-order catalog.
Quill became one of the first office supply mail-order companies in the US.
Today, Quill serves more than one million small and medium-sized businesses across the USA. While at least 70 percent of all sales are now completed online, the business also still has a mail-order catalog and a direct sales venue.
In 1998, Staples acquired Quill for $685 million. Quill remains one of Staples most profitable subsidiaries.
In 2007, JD Powers recognizes Quill for providing Outstanding Customer Service.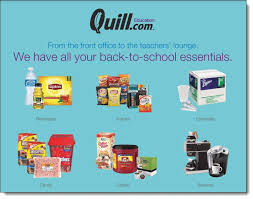 In 2008, Quill launched "the green scene" initiative with environmentally friendly products and business practices.
In 2015, the company picked up green kitchenware manufacturer TrueChoicePack.
Quill maintains a corporate office in Lincolnshire, Illinois.