Meijer was founded in 1934 in Greenville, Michigan, by Hendrik Meijer, a Dutch immigrant. Originally a barber, Meijer decided to try the grocery business during the Great Depression. The first employee was Hendrik's 14-year-old son Frederik (Fred) Meijer.  Additional locations were opened in Ionia and Cedar Springs.
By the 1960s, there were two dozen locations in Western Michigan. 
In 1962, the first modern layout "supercenter" design was opened in Grand Rapids. Fred Meijer took over the business when his father passed away in 1964.
Under increased competition from Wal-Mart, Meijer has had to lay off a significant number of employees in recent years.  They have also outsourced almost all their Information Technology positions to India.
In 2011, long time CEO Fred Meijer passed away at the age of 91. In November of that same year, the company opened up their 200th supercenter in Swartz Creek, Michigan.
In 2013, the company ranked No. 19 in Forbes list of top 20 Private Companies.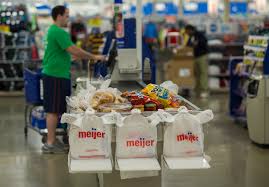 In 2017, Meijer expanded into the Upper Peninsula of Michigan, with stores in Escanaba and Sault. Saint Marie, with a third location opening in the near future in Marquette. 
Almost all Meijer locations are open 24/7/364, closing only at 7 PM on Christmas Eve and reopening at 6 AM on December 26th.
In December 2019, Michigan Meijer's locations are setting up SOS payment kiosks for vehicle registration.
In May 2022, some Meijer customers found that their debit or credit cards were charged multiple times over several days for a single purchase. Meijer claims the problem lies in their processing company.
Today, Meijer is one of America's largest private companies.  They operate more than 200 stores in Michigan, Indiana, Ohio, Illinois, and Kentucky. In 2016, the company had annual revenue of $16.6 billion.