Le Bernardin was founded in 1972 in Paris, France. The restaurant moved to New York in 1986. Originally begun by Gilbert Le Coze and his sister Maguy, Gilbert passed away suddenly in 1994. Le Coze added famous chef Eric Ripert to her team. Ripert has since gone on to become co-owner of the restaurant.
Le Bernardin is one of only 6 restaurants that was awarded the coveted Michelin award of 3 stars. The restaurant has also held the top 4-star ranking in The New York Times since its opening.
The restaurant is best known for its French-style seafood dishes. 
The company has also won no less than 3 James Beard Foundation Awards and Zagats voted Le Bernardin New York City's Most Popular Restaurant in 2013.
Le Bernardin features a variety of seafood dishes and offers an extensive wine list, including a wine-tasting menu.
After closing the indoor dining area due to Covid, in September 2021, the restaurant began offering its infamous power lunch once more.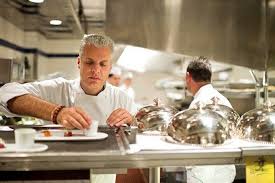 Although Le Bernardin frequently makes the Michelin list, in December 2022, it was named the Best Restaurant in the World by La Liste. 
Le Bernardin maintains a corporate office in New York City, New York.