Ned Grace envisioned an upscale steak restaurant that business persons and top politicians would flock to for meetings, dinners, and drinks. He opened his first restaurant in Providence, Rhoad Island, in 1990. Some thought this was a strange time and place since the nation was experiencing a recession and Providence was too far from D.C. for dinner.
Grace was correct, however. Within 7 years, the business had more than $4 million in annual sales. By 1996, the company had expanded to 3 locations, with the other two being located in D.C. and Boston. 
The company was acquired by Darden Restaurant Group in 2007 for $1.19 billion. The Capital Grille now operates as a subsidiary of Darden Restaurant Group.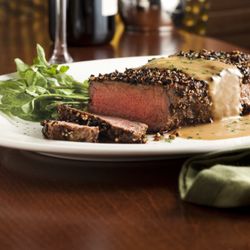 The company is best known for its upscale decor which simulates an American country club, along with very large, top quality steaks, seafood dishes, and desserts.
The company has been known to overtake the competition by winning numerous awards, including being named one of the top 50 American restaurants in Open Table's Diners' Choice Awards, along with winning a number of "Best of Awards of Excellence" from Wine Spectator magazine. The chain also has received top marks on the Consumer Reports Restaurant Satisfactory Survey for the past few years.
In 2013, the Capital Grille location in Pittsburgh, Pennsylvania, opened for the first time on Thanksgiving day. Both Capital Grille employees and members of the Resturant Opportunities Center protested having to work on Thanksgiving without receiving holiday pay or any other type of extra compensation.  In addition, the Pittsburgh City Council passed a Will of Council, opposing Capital Grille's decision to force employees to work on Thanksgiving without additional compensation or holiday pay.
The Capital Grille has headquarters located in Orlando, Florida. As of the end of 2017, the company has 57 locations in twenty states, as well as the District of Columbia.