Industrial designer and mechanical engineer Paolo Tiramani, along with his son Galiano Tiramani and engineer Kyle Denman founded Boxabl in 2017.
The company mass-produces manufactured homes that can be shipped and set up anywhere in the world. These tiny homes can be assembled in about one hour with collapsible walls and a roof.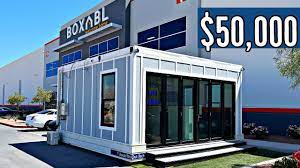 Depending on the configuration and size, each unit sells for about $50,000. Two or more units can be combined to create larger homes.
Tiramani plans on creating multi-family homes and suburban mansion-styled homes.
Each "casita" is manufactured in Las Vegas, Nevada. The company says that it can manufacture one casita every 90 minutes.
Elon Musk, the owner of Tesla, confirmed that he purchased a Boxabl Casita to use as a guest house in 2022.
Each Casita is 20 feet by 20 feet square, offering about 375 feet of living space including all kitchen appliances and a full bathroom with a tub.
The company has been flooded with orders since 2020. Currently, there is a 70,000-person waitlist.
Boxabl maintains a corporate office in North Las Vegas, Nevada.