The former speechwriter for President Bill Clinton,  Andrei Cherny, decided that people had had enough of bad banking policies and how they took advantage of people when they were really down and out.
Cherney decided to create his own online bank that was far different than any other banking system available. Based out of Marina Del Rey, California, Aspiration Bank, sometimes called Aspiration Summit after the name of the checking account, was founded in 2013. Cherny saw the opportunity for a new kind of bank. One that would cater to a customer that is concerned with where their money is being invested by their financial institution and how their financial institution treats its customers as well.
  Calling on Hollywood celebrities and athletes from the Los Angeles community, along with some of the biggest names in finance, Aspiration was able to pull together what might be considered one of the largest Series B in financial technology investment history for an online banking company.
Since its inception, the company states it has more than $350 million in savings and does approximately $2 billion per year in transactions. Clients can earn 1% interest on their accounts (there is only one account, no separate "savings" and "checking" accounts) and there are currently no charges for ATM fees.
The company never invests money in fossil-fuel industries, making it a popular option. 
The company also has a mobile phone app which makes the online banking process even easier. Aspiration is also known for being one of the nation's most charitable banks, giving away 10% of their profits to non-profit charities that are not fossil fuel driven.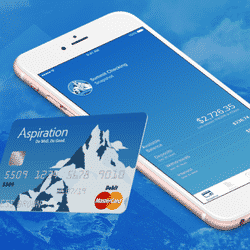 The company makes money by charging a fee set by the customer for the services they use.
Company headquarters remain in Marina Del Rey, California.