Whirlpool history begins in 1911, in a machine shop owned by Emory Upton. When Emory's nephew Louis purchased a patent for a manual washing machine, the pair worked on creating a motor that would make the machine operate on its own. Soon, the company was selling their motorized wringer-type washing machines to Commonwealth Edison and Sears Roebuck.  
To avoid becoming dependent on Sears sales only, the Upton's began to sell under their own label of Whirlpool. Sales increased dramatically, causing the company to merge with the 1900 Corporation in 1929. The company was virtually unaffected by the Great Depression and during WWII, the factory was used to make ammunition.
In response to the post-war consumer demand for convenience products, the company launched a range of home laundry products including wringer and automatic washers, dryers, and irons. In 1950, The Nineteen Hundred Corporation was renamed as the Whirlpool Corporation.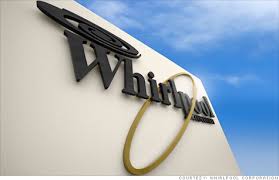 The company acquired Kitchenaid in 1986 and in 1988, purchased a majority share in the Philips brand. By 2004, annual revenue for the company exceeded $13 billion.
In 2006, the company acquired Maytag and all of its brands, including Jenn-Air, Amana, Magic Chef, Admiral, and Hoover. 
In October of 2017, Sears and Whirlpool announced that they were ending their 101-year-old agreement which allowed Whirlpool appliances to be sold at Sears and Kmart stores.
Whirlpool is publicly traded on the NYSE under the ticker symbol: WHR. In 2017, the company reported annual revenue of $21.25 billion. Company headquarters remain in Benton Harbor, Michigan, with manufacturing facilities located in Iowa, Oklahoma, Ohio, Tennessee, and Massachusetts.