Tradesy was founded in 2012 by Tracy DiNunzio. DiNunzio wanted to sell some of her expensive accessories and found that there were very few options to do so. Tradesy is a peer to peer marketplace where sellers offer their pre-owned clothing and accessories.
 Since 2009, she had been running Recycled Bride, a peer-to-peer resale marketplace where brides could buy and sell wedding dresses and accessories. She soon expanded her platform to women's luxury fashion items. In 2019, the company began powering new third-party resale services via Rebag. Rebag introduced CLAIR ("Comprehensive Luxury Appraisal Index for Resale") which provides sellers an immediate value of their bags.
In 2017, the company opened its first showroom on the ground floor of their corporate office building in Santa Monica, California.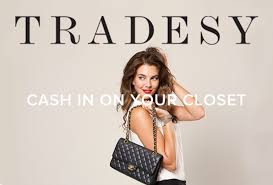 In late 2019, the company acquired Fitz, an in-home service that helps women organize and make the most of the wardrobe, renaming the company Tradesy Closet Concierge.
Tradesy is the world's largest peer to peer marketplace, with headquarters located in Santa Monica, California.