Monster Beverage Corporation started as a single natural soda brand, Hansen's Natural Sodas, which began in the 1930's when Hubert Hansen and his three sons began selling juice in Southern California to retailers and film studios.
In the 1970's Hubert Hansen's grandson, Tim Hansen, developed and marketed a variety of sodas and juices, also under the Hansen label.
The company became Hansen's Juices, and later, The Fresh Juice Company of California.
In 1988 the company was bought by California CoPackers Corporation after filing for bankruptcy. The company name was changed again, to Hansen's Beverage Company.
The company changed its name once again in 2012, this time to Monster Beverage Corporation.
Monster Beverage distributes its products primarily under the Monster Energy, Monster Rehab, Monster Energy Extra Strength, Java Monster, X-Presso Monster, Worx Energy, Peace Tea, Hansens, Hansens Natural Soda, Junior Juice, Blue Sky, Huberts, Blue Sky, and Vidration brands.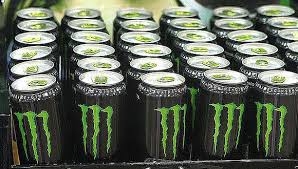 Monster Beverage holds nearly 35% of the $31.9 billion energy drink market.
In 2015, Coca-Cola purchased the brand for $15 million.
In late 2021, Constellation Brands considered a merger with Monster to create a CBD infused drink. 
Monster Beverage is publicly traded on the NASDAQ under the symbol MNST, is a member of the S&P 500, is #930 on the FORTUNE 1,000, has 3,340 employees and had $4.18 billion in revenue in 2020.
Headquarters for Monster are located in Corona, California.