HughesNet was originally founded in 1971 as Digital Communication Corporation.  The company was eventually sold to Hughes Aircraft Corporation in 1987. Echostar purchased the company in 2004 for $2 billion in stock and debt assumption.
Today, HughesNet provides broadband satellite communication services across the U.S. and Europe. HughesNet services are sold directly throughout Europe, India, the U.S., and Brazil. The company has more than 2,200 employees and annual revenue in 2013 of $1.32 billion.
HughesNet also provides managed network and digital media solutions for government markets and commercial establishments. The company serves residential, incumbent local exchanges, and large enterprises with high-speed Internet access, IP VPN, and streaming, point-of-sale credit transactions.
  The latest generation of satellite Internet service from Hughes Network Systems is called Generation 5 or Gen5 for short. At its launch on March 16, 2017, HughesNet Gen5 became the first satellite Internet service to offer FCC-defined broadband speeds from coast-to-coast. Gen5 delivers download speeds of 25 Mbit/s and upload speeds of 3 Mbit/s as well as higher data limits and an integrated modem with built-in Wi-Fi.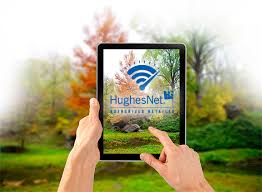 In 2015 & 2016, the Federal Communications Commission's annual report on consumer broadband services ranked HughesNet satellite Internet service first among all major Internet service providers for delivering on advertised performance promises for these two consecutive years.
Customers have been complaining of extremely slow internet service starting January of 2018, although the company states it has plans to roll out 100mbps in 2021. 
The company operates as a subsidiary of EchoStar since 2011 and has headquarters in Germantown, Maryland.