GNC, which stands for General Nutrition Center, can trace its roots back to 1935 when David Shakarian opened a small health food store called Lackzoom in downtown Pittsburgh, Pennsylvania.  Making a mere $35 during his first day of business, Shakarian's business improved so much that he was able to open a second store just 6 months after the first.
Unfortunately, both stores were wiped out in the Ohio River flood on St. Patrick's day in 1937. Not to be deterred, Shakarian reopened both stores and by 1941, had a total of 7 locations.
During WWII, the company operated mainly as a mail-order business since most customers tried to save their gas rationing cards. Shakarian allowed customers to send him checks and he mailed their purchases with no shipping charges.
During the 1960s health boom, Shakarian expanded outside of Pittsburgh for the first time and changed the company name to General Nutrition Centers.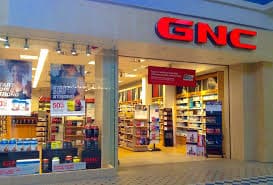 David Shakarian died in 1984.  The family of Shakarian hired Jerry Horn to keep the business solvent until it was sold.
GNC was acquired by Numico in 1999. It sold the chain to Apollo Management in 2003.  The chain was sold again in 2007 to Ontario Teachers Pension Plan and Ares Management.
GNC went public on the NYSE  in 2011 under the ticker symbol: GNC. 
Most stores typically stock a wide range of bodybuilding, weight loss, vitamins, and nutritional supplements, as well as natural remedies, and health and beauty products, in both its owned brands as well as third-party brands. The company also sell health and fitness books and magazines.  
Company retail stores are a combination of corporate-owned, as well as franchised stores. At least 950 of the 5,000 domestic stores are franchises, commonly located within urban shopping malls or inside grocery store chains.
Today, GNC is one of the largest retail health and nutrition chains in the US.  There are over 4800 GNC location in the US and abroad. In 2016, the company had annual revenue of $2.54 billion.