Tom Aulet has always been a fitness fan, but he found many pieces of workout equipment boring.
Aulet changed that when he put his video game company to work creating games and races that people would find fun. This gaming-inspired workout program was then put in a rowing machine, made by WaterRower Club.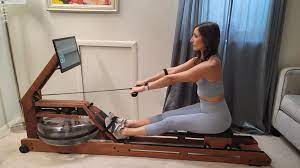 Ergatta was founded in 2018 and is an American-based company. Software is produced in New York, and the machine is manufactured in Boston, Massachusetts.
Made from cherry wood, this rowing machine is unique in that is uses games and racing to inspire workouts, rather than the typical classroom or gym studio setting.
While the company was launched in 2018, the rowing machine only went on the market in March 2020, just when the Covid pandemic and quarantine started, which was a blessing in disguise for Ergatta.
The company received a valuation of $200 million in July 2021.
Sometimes called the Peloton of rowing machines, Ergatta is giving Peloton a run for its money after Peloton's recent problems with treadmills and service.
Ergatta maintains a corporate office in Brooklyn, New York.