Papa John's Pizza was founded in 1984 when John Schnatter knocked out a closet to put in a pizza parlor at his father's tavern in Jeffersonville, Indiana. He sold his 1971 Camaro to purchase some used pizza restaurant equipment.  Soon, John's pizza was so popular, that he was able to rent the adjoining building the following year.
Schnatter also got his Camaro back after offering a reward of $250,000 to whomever still owned the vehicle.
In 1986, the company began selling franchises.
In 1989, the company headquarters was moved to Louisville, Kentucky.
In 1993, the company went public.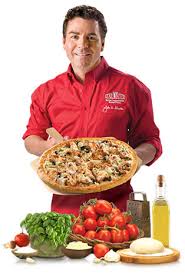 In 1996, the 1000th Papa Johns location opens.
In 1998, the company expands into Mexico and Puerto Rico.
In 1999, the 2000th Papa Johns location opens.
In 2013, the company listed annual revenue of $1.439 billion, as well as employing more than 22,000 persons.
As of December 2016, PMQ Pizza Magazine stated that the company was currently the third-largest take-out and pizza delivery restaurant chain in the United States. 
In February of 2018, the company and the NFL mutually agreed to end their sponsorship agreement, making Pizza Hut the new official sponsor of the NFL.
While Domino's Pizza stocks fell in March 2020, Papa Johns stock increased for reasons unknown. Both companies were forced to stop offering dining service and provide pick up or delivery only due to the COVID-19 virus.
Today, Papa John's is still the 3rd largest take-out and delivery pizza chain in the US.  There are currently over 5,000 Papa Johns locations worldwide (over 2,600 in the US).