Maytag was founded in 1893 by Fredrick Maytag. The original name of the company was The Maytag Washing Machine Company, and it was one of the few businesses to actually turn a profit during the Great Depression.  
The company expanded and grew tremendously during the 1950's and 1960's. By 1960, the company had stopped producing ovens but turned to other water operated appliances, such as dishwashers and garbage disposals. By 2004, the company was suffering from a lack of consumer confidence due to their underperforming Amana line of clothes washers, which tended to grow mold that was not easily removed, and other problems. The company was acquired by Whirlpool in 2006. 
One of the company's best-known ad's was the "Lonely Repairman", which showed a bored repairman, complaining that Maytag products were so reliable, that he had nothing to do.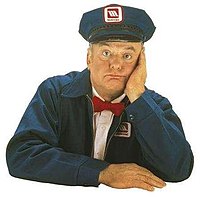 Maytag is still one of the best-known appliance names in America. In 2015, the company reached $4.7 billion in annual revenue. Maytag also sells appliances under the names  Amana, Admiral, Magic Chef, and Jenn-Air.