Leon Leonwood Bean, a hunter, and fisherman developed a waterproof boot which was a combination of leather uppers and rubber bottoms and named it the Maine Hunting Boot in 1912. He sold them at first through a mail order circular and then through a four-page mail-order catalog.
This boot, now named the L.L. Bean Boot, is still a staple of the company's product line.  
L.L. Bean opened its flagship store in Freeport, Maine in 1917. This store is open 24 hours a day, 365 days a year and has only closed four days since 1951: two Sundays when the blue laws were changed in Maine in 1961, to honor the death of President Kennedy, and to honor the death of the company's founder in 1967.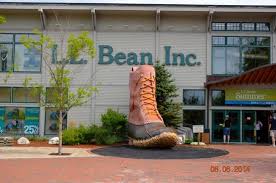 L.L. Bean continues to be a family company and the current leadership includes Shawn Gorman, great-grandson of the founder.
The company is a global one, selling its products online or via catalog all over the world. In addition to the duck boot, the company sells men's and women's clothing, backpacks, outdoor gear, and other types of shoes.
The company has educational programs connected to many of its retail outlets to support the outdoor interests of its customers. Customers can sign up to participate in a number of outdoor activities and learn the basics: all equipment and instruction are provided. Activities include clay shooting, fly casting, archery, and sea kayaking, to name a few.
L.L. Bean has 115 stores in the United States and Japan, has 5,500 employees, and had $1.61 billion in revenue in 2014.
In November 2020, L.L. Bean began selling their clothign and shoes at upscale department stores, such as Nordstroms.
Due to the Coronavirus pandemic, retailers such as L.L. Bean are having a difficult time receiving merchandise from manufacturers in Vietnam in 2021. 
The L.L.Bean "Bootmobile", which travels the country throughout the year, also serves as a mobile store during its college tour, selling Bean Boots, custom laces, and more. 
L.L. Bean maintains a corporate office in Freeport, Maine.