Honeybaked Ham was founded in 1957 in Detroit, Michigan, by Harry Hoenselaar. The company operates a chain of ham and other meats to go, along with sandwiches, stores in the US. Honenselaar would select hams by hand, then smoke them. Afterward, he spiral cut them so his special honey glaze would permeate the meat.
Today, the company has more than 200 franchises and approximately 100 company-owned locations across America. The company also has an eCommerce site, as well as popup stores located in major malls during the Thanksgiving/Christmas holiday season. In addition to ham, the company also offers turkeys, pot roast, and BBQ pork. Many locations also offer side dishes, such as coleslaw, sweet potatoes, or corn.
While the company is privately owned, new CEO Dave Keil has stated that the company has revenue in the $500 million range. Three families, the Kurz family in Ohio, the Schmidt family in Michigan, and the Farbolin family in Georgia, who all owned part of the company, recently came together to form one corporation in 2015, under the name Honeybaked Ham Company, LLC. This consolidation allows the company to work together more easily and should allow for faster expansion.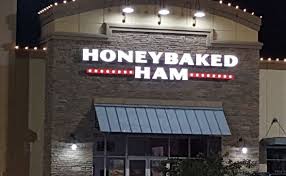 Forbes reports that millennials love working for the company because they feel like family, not employees.
During National Sandwich Month (August) the company offers a BOGO free offer, even during the COVID crisis of 2020. 
The company has purchased a new corporate headquarters that will serve as its customer support center for its customers as well as company-owned owned and franchise store locations. The new 22,660 square foot building on Mansell Road in Alpharetta was purchased for $2.29 million.