Fleming's Prime Steakhouse and Wine Bar, more commonly known as Fleming's, was founded in Newport Beach, California, by Paul Fleming, who also founded P.F. Chang's, and Bill Allen. The company operates a chain of upscale steakhouses, which offer a selection of more than 100 wines by the bottle or by the glass.
  From the single location which opened in 1998, the company has now expanded to 68 locations in the US and one location in Sao Paulo, Brazil.
Fleming's Prime Steakhouse operates as a subsidiary of Bloomin' Brands, who acquired the company in 1999.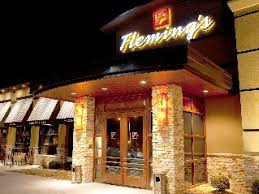 The company recently announced that they would temporarily close their original location in Newport Beach, California, for a $4 million overhaul, both inside and out, including adding more than 40 seats to the restaurant and bar area. Remodeling is also scheduled to begin in late 2017 or early 2018 at the El Segundo, California, location. El Segundo will still offer patio seating during remodeling, which is expected to add 65 additional seats.
Company headquarters, once located in Newport Beach, are now located in Tampa, Florida. Most Fleming's locations will be offering longer hours and a lunch menu will be introduced soon.