In October of 1939, former farmers James and Cal Turner opened  J.L. Turner and Son with an initial investment of $5,000 each. The switch to retailing from farming resulted in annual sales above $2 million by the early 1950s. By the mid-1950s, this father and son team had 35 department stores in Kentucky and Tennessee. The first store actually called Dollar General wasn't opened until 1955, with the idea that all items in the store would be $1 or less.  The idea took off quickly and all J.L. Turner stores were changed to Dollar Generals.  The chain reached 29 stores by 1959. 
J.L. Turner died in 1964 and Dollar General went public in 1968.  In 1977, Cal Turner, Jr. took over as president of the company, making him the third generation to run the company.  Cal ran Dollar General until 2002.
In 2007, Dollar General was acquired by private equity firms and taken private.  2 years later, in 2009, the company was made public via IPO.
In 2014, the company was fined $52,000 by OSHA for health and safety violations in a Brooklyn store for blocking fire exit doors with merchandise. The company was fined again in 2016 also for blocking fire exits, as well as for exposing employees to possible electrocution by removing or not replacing face plates on electrical outlets.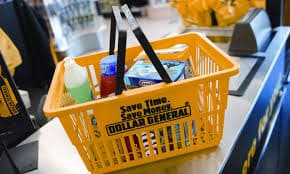 In mid-2015, CEO Rick Dreiling announced his retirement and was replaced by COO Todd Vasos. That same year, the company posted annual revenue of $20.369 billion.
The company announced in September of 2016 that they had plans to hire an additional 10,000 employees and open 900 new stores in the next year, as well as an additional 1,000 in fiscal 2017.
The company acquired Family Dollar in 2017 and has stated that at least half of these stores will be rebranded to the Dollar General name.
Due to Trump's tariff's on Chinese goods, Dollar General stated that they would be forced to raise prices once the items stored in warehouses have been depleted. 
In June 2019 FedEx and Dollar General announced a partnership which would allow customers to drop off packages at Dollar General stores for FedEx pickup and drop-off. 
Dollar General settled a lawsuit in Vermont, which found more than 300 cases of stores listing one price on the shelf but charging a different price. The company agreed to pay $1.75 million but did not admit to any errors.
In 2016, the company has over 12,500 stores in 43 US states.  The Dollar General corporate office is located in Goodlettsville, Tennessee.