How would you rate your experience with Gus's World Famous Chicken ?
Gus's World Famous Chicken Corporate Office Address
Gus's World Famous Chicken
505 US-70
Mason, Tennessee
38049
Contact Gus's World Famous Chicken
Phone Number:
(901) 294-2028
Fax Number:
Website:
http://gusfriedchicken.com/
Email:
Email Gus's World Famous Chicken
Gus's World Famous Chicken Facts
Founder:
Napolean and Maggie Vanderbilt
Date Founded:
1957
Founding Location:
Mason, Tennessee
Number of Employees:
1000
Gus's World Famous Chicken Executives
CEO:
Wendy McCrory
CFO:
Brad Turner
COO:
Paul Pufahl
Gus's World Famous Chicken History
Gus's World Famous Chicken started out in 1957 when Napoleon Vanderbilt, and his wife Maggie, began playing with a fried chicken recipe which would soon become famous. In Mason, Tennessee, word of this super crunchy, spicy chicken quickly spread. Not able to afford a place of their own, the Vanderbilt's were selling their chicken out the back door of a tavern.
Friends and customers encouraged the pair to open their own restaurant, but the Vanderbilt's were of modest means. Finally, friends bought or donated the materials to build and Mr. Vanderbilt, along with more friends, worked to construct their own brick and mortar restaurant.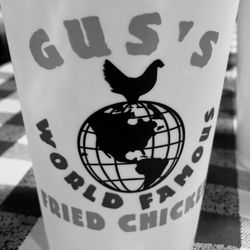 Mr. Vanderbilt's only son, Vernon "Gus" Bonner took over the restaurant before his father's death. Gus loved the business and he found a devoted follower with the current CEO Wendy McCrory. McCrory began franchising operations and has expanded the company from 2 locations to 22 locations in less than 5 years. Current plans are to expand at a rate of 5 to 10 franchises each year. McCrory has also stated that she has received requests about franchising in China and South America, though those plans have yet to be finalized.
Gus's famous recipe is known to only a handful of persons. The frying batter is made behind locked doors in Mason, Tennessee, and is given to franchises in frozen batches. In addition to fried chicken, the company offers fried sweet potatoes, potato salad, fried green tomatoes, coleslaw and pecan pie.
Headquarters for the company as still located in Mason, Tennessee.